The Solvey Roadster/Like the Phoenix/It will Rise
Posted on May 2, 2006 at 10:16:22 AM by SuperDave


I grew up in Sandusky and my dad started taking me to the races when guys like Gordon Dukes, Al Wood, and Johny Benson were running supers. As a teenager I was lucky enough to see almost every show that Bill Bader promoted and then on to Larry Boos. It was always a special thrill to stop back to the track on the way home from church on Sunday mornings to see the Michigan cars that survived Oswego the night before. My dad used to talk to everyone and I loved to listen in on all of his conversations. We would find out who won, who ran well, who crashed out. Bob Seelman was one of my favorites. It was even a bigger thrill to see the New York cars race Sandusky at the classic. In 1971 we made Oswego a stop on our summer vacation, I will never forget seeing Todd Gibson run with those boys up there. The night we were there was Gary Allbritain's first visit behind the wheel of the B-4 car. One car that really stood out to me was the big red 04 Solvay Automotive Woodshed upright car. I think Bob Stelter was the driver. He destroyed that car in a crash not too long after that and the Solvay team got into the roadsters. They were as impressive as any car on the track.

This past December my dad called me and wanted me to check out the post on Super Dave's site that had one of the old 04 cars for sale on ebay. I recognized the car instantly and was dreaming about all the possibilities of getting it. I showed it to my wife and she thought I was crazy. I showed it to a friend who races sprint cars, Mike Stuchell, His son runs winged and non wing sprints at Larenceburg, and Eldora. They occasionally run KC, Attica and Sharon too. It just depends on finances. Mike thought I was crazy too, but then started thinking about it more and a couple of days later called me and said he wanted to buy it and restore it. He is good friends with Warren Coniam and that may have got him more interested. I hooked him up with Tom Bliss and the car was sold and Tom pulled it off ebay. Tom said this car meant a lot to him and he wanted it to end up in the right hands. I hope that is us.

The car was Solvay's second roadster and was built in 74. It won the 75 Sandusky Classic with Warren Coniam as its driver. It also won features at Oswego. It was driven by several drivers including, Warren Coniam, Jim Cheney, Bob Stelter and even Eddie Bellinger. This was the car that Cheney got upside down and almost lost his life in a bad fire in July of 77. We would love to restore it to its original Mid to late seventies form.

We realize this is going to be a big undertaking. We have the frame, most of the original body panels, the front axle, steering, brakes, a couple of wheels, and some other misc. parts. We are going to have to do some digging to bring this car back to life. If anybody out there knows anyone or any body that can help us locate some parts we would really appreciate it. For starters we need a 427 chevy motor, fuel injection, headers, etc. Also a drive shaft and rear end including axle, seat and steering wheel, a left rear hub from the time period, radiator and that is pretty much all I can think of at this time.

Photos are the car in Tom's garage just north of Syracuse when we picked it up Friday night April 21st. The other photo is my friend Mike with Tom and the car. It left the state of New York in the back of Mike's truck in the early morning hours on Saturday the 22nd. The last picture is the car in Mikes garage just south of Dayton, OH.

Thanks Super Dave,

Ken Ott

Kettering, Ohio
My cell is 937-470-8943 if anyone would like more
info on the car or has any leads for parts.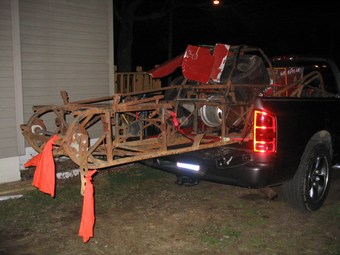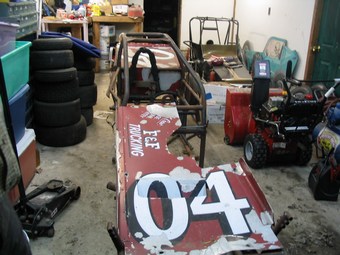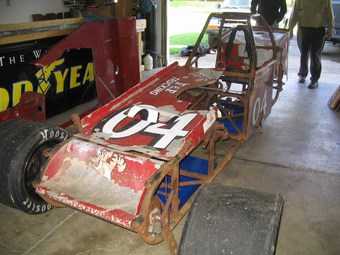 A lot of you probably don't remember Jim Cheney. What a great guy he was and what the story behind him was that led to his tragic end.