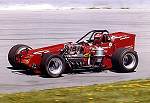 Solvay Automotive #04, 1976
The Solvay Automotive 04 was a weekly fixture in the Oswego Speedway pits for more than 25 years. Like most of their contemporaries, owners John Pallotta and Jimmy DeLucia built and maintained everything on the car, including the engine. Talented machinists, John and Jimmy attracted some of the biggest names at Oswego during their career including Warren Coniam, Bobby Stelter, Jim Cheney and Larry Record. Other noted drivers seeing seat time in the 04 included Eddie Bellinger, Jr. and modified driver Merv Treichler. The huge Solvay Automotive crew, one of the first to sport matching crew uniforms, always kept the car in immaculate condition. The Solvay crew was successful at other tracks as well, winning features at Flamboro, Raceway Park and Delaware in Canada; Sandusky, Ohio; Thompson, CT and Fulton, NY.

This car was Solvay's second roadster and was built in 74. It won the 75 Sandusky Classic with Warren Coniam as its driver. This was the car that Cheney got upside down with and almost lost his life in a bad fire in July of 1977.

Jim's bad 1977 crash