Although Richie was primarily an asphalt modified legend, he also left his mark on the supermodified world.
He did win one supermodified event at Thompson Speedway (Thompson, CT), and one DIRT modified feature at Weedsport Speedway (Cayuga Co. NY). In the book "Richie", written by Bones Bourcier and published by Coastal 181 there was a chapter delving into his "side jobs". This included his exploits on dirt, his victorious Datona adventure and the supermodifieds.
With kind permission from Coastal 181, here is the supermodified portion of the chapter called "Side Jobs"...
---
The race which will likely be remembered as Richie's most successful side job was one filled with tragic irony. On the first weekend in November, 1975, Evans hauled his Pinto to Connecticut to compete in the small-block modified portion of the Thompson Speedway's World Series of Speedway Racing. Just to pad his schedule a bit, he also agreed to drive the famous 10-Pins supermodified owned by Nolan Swift, who was making the transition from champion driver-(Swifty was an eight-time Oswego Speedway champion and won the track's International Classic, supermodified racing's premier event, six times)-to car owner. Evans and Swift had been acquainted for years, and, hell, Richie was going to be at Thompson anyway. He had never raced a supermodified, but had taken one or two out for hot-lap sessions over the years; "They give you a beautiful feeling because of the rapid acceleration," he told writer Pete Zanardi in 1973.
Nobody much remembers what happened to the Evans modified that weekend, except that it dropped out of the Sunday 50-lapper, won by Fred DeSarro over Eddie Flemke, with some sort of minor failure. The supermodified event, however, is the stuff of regional racing folklore.
There were 47 supermodifieds on hand for the World Series; 42 took time on Saturday. Evans shattered the track record in winning the pole during the unique qualifying session; his total time for two laps around the 5/8ths-mile track was 38.653 seconds. Thompson was overflowing with race cars-there were over 220 modifieds, supermods and midgets on the grounds, so the supers were pitted in the infield, splayed around a raised quarter-mile oval occasionally used for minor events. And so, come race day, there sat Nolan Swift's 10-Pins, about midway down what would have been that small inner oval's backstretch.
It was an atypical November Sunday, Speedway Scene writer Gene Rebello termed it "a day of days, with temperatures around 70 and no wind at all", and both the regular pit area and the infield were jammed with folks eager to catch one last dose of racing before the snow came.
Close to the Swift pit gathered a confluence of prominent Northeast racing personalities. Writer Dave Shippee and his pal John Brouwer, whose father had once been a co-owner of Connecticut's Waterford Speedbowl and who was for years an official there, were talking with Waterford promoter Harvey Tattersall III and Bruce Cohen, a New England fixture who had been a writer, promoter and team owner. All four men knew Evans, to varying degrees.
In his Speedway Scene column, Shippee recalled, Brouwer said, "Let's go look at the 10-Pins," and off they went. They stood for a while and watched Evans, in Shippee's words, "thoughtfully taking a mental inventory of the legendary super he was to drive that day."
On the speedway, the second of two consolation races for the smallblock modified division was just getting underway.
Then Evans peeled away to join a conversation which included Oswego Speedway's Dick O'Brien and Jim Shampine, the quiet but charismatic New Yorker who had replaced Nolan Swift as king of the supermodified scene.
"The three of us were standing near Swifty's pit, maybe a car or two away," O'Brien says.
And then everything went to hell. Exiting turn two, what should have been a minor jingle produced disastrous results. A modified driven by Lou Funk Jr., a regular at the Danbury Racearena, shot out of the melee and roared into the Thompson infield, headed for that elevated inner oval.
"I was facing the backstretch," says O'Brien. "Richie and Jimmy were facing me, with their backs to what was happening. Anyway, I see this little commotion, and a car comes out of turn two and across the infield."
Funk's modified, wildly out of control and going God knows how fast, sped toward an earthen bank just below the spot where the Swift pit was set up.
Dave Shippee wrote, "Everything had to go wrong for the Funk car to get that far away from the racing surface, and it did. The front wheels were toed out in opposition ... the throttle was obviously jammed wide open ... hitting the bank simply launched that car to incredible heights, and ultimately into the crowded pit."
O'Brien remembers shouting a last-minute warning to Evans and Shampine. "Then the three of us took off, literally running for our lives."
Close to the 10-Pins, working on the car and obviously unaware of the chaos, stood mechanic John Roberts of Camillus, New York. He was a longtime crewman for Swift and a supermodified devotee who, coincidentally, often traveled to far-flung races with O'Brien and veteran Oswego track worker Eddie Lynch. O'Brien recalls Roberts preaching, "Don't watch the cars that have gone by you. It's the one that's coming that you've got to look out for."
The one that was coming, front end askew, steering gone, no brakes, full of ghastly momentum, smashed down into the Swift pit. It felled Tattersall, who had been standing so close with Brouwer that, in Shippee's report, "one's left arm was touching the right arm of another." The two men had seen the coming carnage at the last second, and Brouwer made a lucky dodge while Tattersall's movements were blocked by the car beside the 10-Pins. Tattersall ended up underneath Funk's modified. He might have been crushed had not the car ended up partially supported by a tool box and other pit equipment; as it was, he sustained a broken wrist, a dislocated shoulder, and assorted bruises and burns.
Shippee wrote, "As the flying modified was still settling on top of Tattersall, Evans was single-handedly trying to lift it off him. Tattersall remembers the car in the air, and he remembers Evans trying to drag him from under it."
Less noticed in the immediate rush to free Tattersall was John Roberts, because, O'Brien says, "the car just clipped John. It didn't land on him or anything." But Roberts had suffered a serious head injury, and as the ambulance carted him off it was clear to everyone on the scene that he was dead.
The beautiful November Sunday had gone all wrong. Around the 10-Pins, there was a terrible, empty confusion. On the track, the consolation events finished and the features were nearing and their friend was gone and they couldn't bring him back.
O'Brien recalls, "Now came the dilemma, What do we do? Do we race? Swifty and co-owner Billy Wright and three or four of Swifty's old-guard helpers talked it over. I stood right there and listened. They asked Richie what he thought, and he said, 'Look, I'm here. If you don't want to race, that's absolutely no problem. I'm going to run my modified anyway. But this was your guy, your friend, so you've got to do whatever you think is right. I don't want you to do something you think is disrespectful, or anything like that.'"
"And then Richie said, 'If you do want to race the car, I'll run that sonofabitch as hard as I can.'"
They made a quick, heartfelt decision to run the race and donate the car's earnings to the family of John Roberts.
The World Series supermodified feature was 100 laps long, broken into two halves by a planned intermission at 5O laps. In the opening 5O, Evans lapped all but the next three men across the line, and they were heavyweights all: Canadian Warren Coniam, hot young Steve Gioia and Shampine. In the last half of the race, Evans really got down to business. He wrung every last ounce of speed from the 10-Pins-John Roberts's car and lapped the entire field. Not even Shampine, who ran third, and New England hero Dick Batchelder, the runner-up, got anywhere close to him.
He had beaten the best in the first supermodified race he ever ran. Dick O'Brien, as solid a supermod history buff as there is, says, "Looking back at it today, I'm not surprised Richie could do that. But at the time, it was pretty shocking. That was an era when supermodifieds were a very tight group; you just didn't have outside guys float in and run good enough to win. There were career supermodified guys from Ohio, from Canada, from Texas, from New England, and of course from New York, and they were tough, hard-nosed racers. And the cars back then were so lightweight, and they had unlimited engines-500 cubic inches and more-so you really had to hang onto them, especially at a place like Thompson where they'd slide up the banking, turn, and shoot down the straightaway.
"So for Richie to do that, in my eyes it just confirmed the seat-of-the-pants ability he had."
It was years before Evans climbed back into a super with an eye on winning, although he did briefly own one in the late 1970s. That was more of a business deal to Richie than anything else, it was part of a large cache of parts and equipment he purchased from Oswego driver Ronnie Wallace and then sold off, piece by piece, and he never seemed to see it as anything more than a profitable lark. As near as can be determined, he only raced it once, in a midweek event at Star Speedway.
"We were going to run a series of pretty good-paying supermodified races between Star, Oswego and Sandusky [Ohio], like a big 'triple crown' thing," remembers former Star promoter Russ Conway. "I saw Richie someplace and mentioned our race and he said, 'I'll be there. Wait and see. I'm going to bring my own super.'"
Conway blew it off. But come July 3, 1979, sure enough, Evans showed.
"I remember this, clear as a bell," says Conway. "In pulls this number 61 supermodified, Evans orange, the whole nine yards, with 'The Orange Crate' lettered on the side of the wing. And he said, 'See, I told you.' Oh, he was as proud as hell of it."
The car had some minor problems-fuel issues, maybe, or faulty injectors?-and sputtered to an unmemorable finish out of the top five. Later that year Evans warmed it up at Thompson, before unloading it over the winter.
From there, supermodifieds were mostly something he encountered only from a distance during twinbill events at Oswego or Thompson or Star. But then, in the autumn of 1984, some conversation with car owner Skip Matczak got Evans fired up about the idea of going supermodified racing for real.
Matczak, an open-wheel diehard who hauled cars to Oswego from his Connecticut home on a weekly basis, remembers, "We were both signing into the pits at Thompson for the World Series. I had finished second in the Oswego Classic with Dave Shullick driving, and Richie asked me what that paid. I told him-and I don't remember exactly what the numbers were-and I guess it stacked up pretty good next to what he'd gotten [for winning the Bud 200] the night before. You could see it in his face. And, just to bust him because I knew how dedicated he was to the modifieds, I said, 'Well, Richie, the A-main cars always get paid much better than the B-main cars.'
"Later that day, he kept repeating that line to me, the line about A-main cars and B-main cars. But I could tell he was studying the issue. I could see the wheels turning. Then the two of us ended up talking to Dick O'Brien, and O'Brien confirmed the numbers. And Richie said, 'You know, let's try this a little bit.' That's how we got together. I was absolutely thrilled."
They settled on a loose 1985 schedule revolving around Evans's availability: the Oswego mod/supermod twinbills, of course, and whatever else they could make.
| | | |
| --- | --- | --- |
| June 9th Port City, 1985 | June 9th Port City, 1985 | June 9th Port City, 1985 |
They debuted at the Port City event, expanded that year to include 100-lappers for both the modifieds and supermods. Evans won the modified half-nothing new there-but fuel pick-up problems kept him and the Matczak car from showing their stuff. Later that summer, on a night when it seemed certain they would show their stuff, a commendable case of sportsmanship on Richie's part kept it from happening.
"We had run a couple shows, but we were not ready to win yet," Matczak told writer Pete Zanardi. "This one particular night, we're ready to win. (Richie) used his patented outside line like nobody else could; he went three-abreast on the last lap to win the heat."
Oswego's finish line is on the far end of the frontstretch, and Evans sure seemed desperate to win that qualifying race; he stayed in the throttle so long that he had the Matczak super hung out dirt-track style, trying to keep it out of the first-turn fence. Dick Maceo, a rabid supermodified nut who used to write a wonderfully beery fan-in-the-stands column for Speedway Scene, proclaimed in print, "A finer heat race I will never witness."
According to Matczak, Evans declared, "We're going to win the feature tonight."
They were readying for the main event, Matczak recalled, when longtime Oswego favorite Eddie Bellinger walked over to their pit stall. "Bellinger was going for the championship, locked in a torrid battle. He had broken his motor. He needed a car to run, and said to me, 'Is there any chance of getting in the car?'
"I was torn," Matczak told Zanardi. "Eddie is a friend, but here's Richie who tells me he's going to win. You could put money on that one. But Richie, without hesitation, said, 'Give him the car. There'll be another day for you and me.' He truly understood a champion going for points, how important that was."
Evans understood racers, period. He had friends in every division, it seemed, from dirt champions like Will Cagle and Kenny Brightbill and Billy Osmun to supermod heroes like Bentley Warren and Swift and Shampine. He clearly delighted in catching up with old foes who had moved on to other things, whether it was Winston Cup driver Ronnie Bouchard making a cameo appearance in New England or World of Outlaws standout Lee Osborne taking advantage of a night away from the Speedweeks sprint car wars to visit with Evans, Cook, Troyer and Loescher at New Smyrna. And he relished the idea of stepping in and out of other worlds himself, and taking on these brief side jobs; he told Winston's Roger Bear in 1982 that he'd love to fight it out with the other NASCAR regional champions in a series of races, rotating between their various classes of cars and track surfaces.
"How do you think you'd fare?" Bear asked him.
Smiling, Evans replied, "Oh, I'd hang in, one way or another. I'd be up to it."
Connecticut radio man Arnold Dean once asked Richie what type of race car, budget constraints aside, he'd most like to have in his garage. His laughing reply was, "I wish I had a dirt car, a supermodified, a modified, a Grand National ... "
Dean said, "You like 'em all?" "Yes."
But, at his core, Richie Evans was a modified guy.
. . . author, Bones Bourcier
---
Evans won more than four hundred feature races during his career and nine NASCAR Featherlight Modified Tour Championships as well. He was inducted into The National Motorsports Press Association Hall of Fame at Darlington Raceway in 1986, The International Motorsports Hall of Fame at Talladega in 1996, The New York State Stock Car Association (NYSSCA) Hall of Fame in 1997 and The New England Antique Racers Hall of Fame in 1998.
Richie Evans was from Rome. N.Y. He began his career at the Utica-Rome Speedway in the early 1960's as a drag racer. His oval track career started with Hobby cars before he moved into the Modified division. Evans won his first of four Utica-Rome Championships in 1972 and his first NASCAR Modified Championship in 1973. Eventually, he was a nine time Nascar Modified Champion, winning for eight straight years from 1978 thru 1985. Much of Richie's success came behind the wheel of cars sponsored by long time associate Gene Dewitt and B.R. Dewitt Inc.
Evans was a three time track champion at the Fulton Speedway, winning the title there in 1970, 1971 and 1974. During his career he collected 40 asphalt modified wins there. Richie was also quite successful at the Spencer / Williamson Speedway garnering 49 wins, second only to Maynard Troyer. He was the modified track champ there in 1976, 1977 and 1983 as well. At Lancaster Speedway, Evans gathered 22 modified checkers between 1969 and 1976.
Richie won three Race of Champions. His first came in 1973 at the 1½ mile Trenton Fairgrounds. He also won in 1979 on the 2½ mile Pocono trioval and in 1980 on the ¾ mile inner Pocono track. In 1979 "The Rapid Roman" started 60 Nascar races, won 37 and finished in the top five 54 times. Richie was the standard bearer for the Modified division, winning on the 2½ mile Daytona Superspeedway, beating drivers such as Darrell Waltrip, Rusty Wallace, Neil Bonnett and Harry Gant. In 1983 he started 68 Nascar races and won 31 while finishing in the top five 57 times.
As part of Nascar's 50th Anniversary Celebration he was named one of its 50 greatest drivers of all time. Evans also won nine most popular driver awards. Richie was 44 years old when he was tragically killed while practicing at Martinsville, Virginia on October 24, 1985. He was inducted into the National Motorsports Press Association's Hall of Fame in 1986 and the International Motorsports Hall of Fame in 1996. Richie was also inducted into the New York State Stock Car Association (NYSSCA) Hall of Fame in 1997 and the New England Auto Racers Hall of Fame in 1998.
"Richie! The fast Life and Times of NASCAR's Greatest Modified Driver" by Bones Bourcier was published by Coastal 181 in 2004 and is available through the publisher's web site. From their press release: From farm boy to nine-time NASCAR National Champion, Richie Evans raced through life in the fast lane. Motorsports biographer Bones Bourcier was along for much of the ride as a reporter, observer and friend, and now he tells the complete and unabridged story of the man voted "NASCAR's greatest modified driver." Weaving together over 200 photographs and excerpts from hundreds of hours of interviews with competitors, crew members, friends and family members, "RICHIE!" takes us on a virtual journey back to the time when modifieds ruled and Evans was King.
. . . from Mark Southcott
---
Bob Stelter in the 61 Pinto?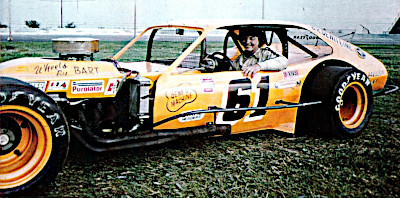 Tom Bliss sent this image to me (from 1980, I believe). I said, wow!... what's the story? Tom had this to say:
Actually Bob did drive for Richie on a couple of occasions, one being at the O, They were the best of friends cut from the same cloth. Bob drove Richie's rig down to winston salem one time as a decoy, Richie had another one he was racing in the Northeast. This was at a time when National points could be scored at several tracks on a given night. Richie and Jerry Cook would play this game with each other. Bob and I were planning a trip to Richie's shop but he suffered his fatal crash the previous weekend.
. . . written by Tom Bliss