He was my hero, He was a hard charger who drove the wheels off a car and never wrecked anybody. When I started racing, I wanted to be like him. I put his number, 36, on my first race car and Iíve never had another number. And every racing car Iíve had, including this one, has í36 for Schurrí written across the front.
. . . Gary Elliott (Late Model racer at Flamboro Speedway)
---
Here's a pic (below) of Glenn Schurr taken at Flamboro Speedway in 1967, the last year that supermodifieds ran regularly at Flamboro. 1967 was also the first year that my father starting taking my brother and I to see supermodifieds. We used to cut pictures out of programs and put them in a scrapbook, which I still have.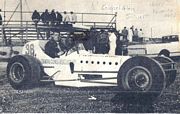 Note the writing on the picture (written by a super-crazy kid at age 8, 42 years ago). Glenn's nickname was "Colonel" and he was my father's favourite supermodified driver. My brother's was "Smilin" Jack Greedy, mine was "Leadfoot" Harvey Lennox. Harvey is still alive and well. He retired from supermodified racing in 1972. I spoke to him at the Cayuga ISMA event this summer. My brother was astonished that I still recognized him after so many years. It was cool telling him that he was my boyhood racing hero 40 years ago.
. . . from Mark Floyd (10/2/2009)
---