Randy Witkum drove the No. 3 Supermodifed for the Jeff Miller Race Team. He died all to soon during an race event crash. In the words of his team, "he was a racer, fabricator, mechanic and most of all A Best Friend !!!"
"Randy was a large part of our racing team. He became a true friend to all of us. He had influenced many small childrens lives with his accomplishments.
Jeff Miller's daughter, Sheena, has written a wonderful dedication to Randy that she entitles "MEMORIES". We would like all of you who read this to remember Randy the way we do and say a pray for him and his family everyday as we shall.
. . . from the Randy Witkum memorial page
---
Great friends of ours shall come and go, but there will be memories. We shall pray and pray and God shall bless him with our hearts. As we cry, his spirit will never forget the good times in his life. We may be sad, but we all know one fact; he has risen to a blessed place and they call the place "heaven". Our Friend is now our risen angel up above. God will remind this risen angel that we love him with all our hearts and we shall cherish him till the day we die. God did not take him away from us, he wanted our friend to have less pain. Every day and night pray and think of the fond memories. Don't let the devil get to you, be happy and thankful that he was born into this wonderful world and that he was gifted in many ways. As we recover, we will still remember the new angel that has risen and that wonderful angel's name is "Randy" God Bless You, Randy.
. . . written by by Sheena Miller
---
Jennerstown, Pa.-(Aug. 16, 1999)-A Memorial Service has been scheduled for ISMA Supermodified racer Randy Witkum. Witkum, 25, of Westford, Mass., who lost his life Saturday, August 14th, from injuries suffered in a multi-car accident at Jennerstown Speedway during a qualifying heat.
Witkum was life-flighted to Conemaugh Trauma Center in Johnstown, Penn., where his injuries proved fatal. Witkum comes from a prominent New England racing family. His father Ed Sr. and Ed's brothers Bob and Joey are, and have been, involved in racing for many years, campaigning throughout the New England area especially at Star and Hudson Speedways.
Ed Sr. and wife Pat had three sons, Ed Jr., identical twin sons Randy and Rich born in 1974, and a daughter Sheri. The three boys quite naturally became involved in auto racing, following their father's and uncle's footsteps.
In 1995 Randy posted four feature wins as an open-cockpit freshman. A year later Randy snared Hudson's Limited Super title. In 1997 he took the 350 super champions hardware at Star, becoming the fifth from the Witkum family involved in racing to win features at Star Speedway. (Information from the Witkum Family Album, Star Classic Yearbook, by Tom Neff.)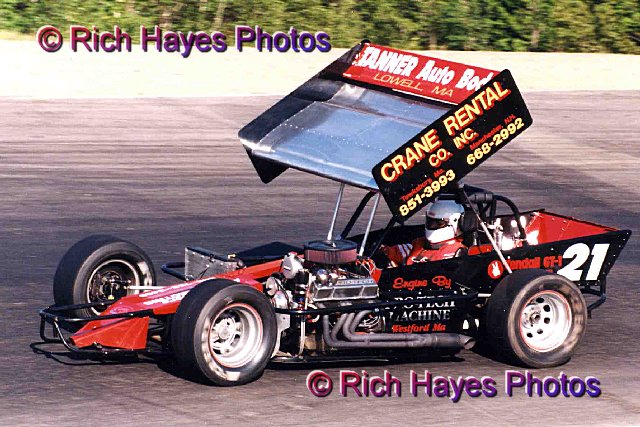 Randy had served on the Jeff Miller supermodified team and did a lot of garage work on the Joey Payne-driven ISMA cars. In 1999 Randy hopped behind the wheel of the second Miller car, driving several ISMA and Star events. He had campaigned on August 7th at Star in the No. 3 and was driving that car at Jennerstown.
. . . from the Jennerstown speedway press