During the 1975 season it became apparent to Jimmy Shampine that the competition was catching up to his roadster that carried him to so many features over the past six seasons. Jimmy was not only a great driver and sportsman but he was equally as good in the design and construction of supermodifieds. He was constantly looking for a way to get the edge on his competition through better design, yet he was very practical in his approach. His equipment, while sophisticated in thought, was simple in construction. Over the winter and spring of 1976 he created a supermodified that was to become known as the "radical offset". It was also to become known as revolutionary and unbeatable! The car was very similar to every other super in competition with one exception, the entire drive line was offset farther to the left than anyone had ever dared try. It was offset so far that the drive line was on the outside of the left frame rail! Respected car owner of that time, Doug Duncan, took one look at it when Jimmy unveiled it on August 14, 1976 and proclaimed that it would never work. Two years later Duncan was playing catch up trying to build one like everyone else. The Shampine radical offset had made every other supermodified obsolete overnight!
Just like the last car, Jimmy didn't enter it into competition right away. He warmed it up, made some adjustments, then put it away and raced his proven conventional roadster for the balance of the '76 season and well into the 1977 season. Matter of fact the first person to drive the car in competition was Steve Gioia on Sept. 25th, 1976. Steve was going for the track championship against Jimmy Shampine when his car developed engine problems. In a true gesture of sportsmanship, Shampine offered Steve his brand new car to race against him for the championship. Steve finished 13th with the car and Jimmy wound up winning the feature and the track championship.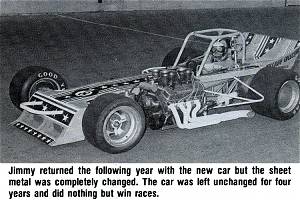 Jimmy brought the car back in 1977 with some changes on the car, most notably to the body panels which he cut down dramatically. As the weeks rolled by the speeds in the new car continued to get faster. The car was consistently below the 17.5 seconds per lap bracket in practice and the big question was - WHEN? ... When would Jimmy enter it into competition...
The night finally arrived on July 30th and he promptly put it into victory lane. He came back the next week and victory again! It looked like there was no stopping him now and Classic was only three weeks away. Then Lady Luck decided to take a vacation on Jimmy and his new car would not find victory lane again at Oswego until June of the following year, 1978. But what a year, 11 features in a row starting on June 3rd; a new track record!
1979 was another successful year as well, but the winds of change were still blowing in Jimmy's mind. He engineered yet another car that proved to be very successful. It was a rear engine supermodified with the same radical offset. Having proved he could do that and with the new rule changes that were coming down in 1980, Jimmy decided it was time to move on. He did not run a regular schedule of supermodified racing in 1980. The famous radical offset car sat in the garage waiting for a shot at the race that had eluded Jimmy and his offset car for so many years, the International Classic. Jimmy brought the car out several weeks before to shake the car down and tipped it over in a freak accident at the start of his heat race. He returned Classic weekend, set 2nd fast time then led EVERY LAP of the 200 lap race to win the Classic in convincing style.
Jimmy stayed away from regular competition in 1981 and Lady Luck was on vacation as well. He sold the car after the '81 Classic to Norm Foster of Savannah, N.Y. who put rising star Mike McLaughlin in the cockpit.
Mike ran a complete season in 1982 and won a feature with it by mid season. Mike was a good friend of Jimmy's and was devastated by Jim's untimely death in the '82 Bud 200. Mike tried desperately to win the emotion filled '82 Classic and was battling for the lead with Steve Gioia when they both got into some oil and crashed out of the event. Mike moved on to modified racing the next season and Norm Foster put the car up for sale. Incredibly no one came forth for almost a whole year to purchase this car!
Jamie Moore of Auburn, N.Y. finally got up enough money and made the buy of a life time! For less than $8,000 Jamie picked up this car that he still campaigns today. He finished out the '83 season with it, ran it in '84 and just selected shows in '85, '86 and '87 while he ran for another car owner during this period. The car still continues to show tremendous strength especially in the long distance races. Doug Saunier drove it to a fine 3rd place in the '85 Classic and Moore was running 2nd in the '87 Classic when he pitted for fuel. As of this writing, which is the winter of '87-'88, Jamie finished the last two races of the '87 season with 2nd and 3rd place finishes. So, there's plenty of life left in this Shampine radical offset car yet!